Harrison Street and American Real Estate Partners form $1bn JV for Northern Virginia data center campuses
January 12, 2022
DCD
Real estate investment firms planning 2 million+ sq ft campuses in Loudoun County to serve hyperscalers
Harrison Street Real Estate and American Real Estate Partners (AREP) have formed a new $1 billion joint venture to develop data centers.
First reported by Pere News, the US real estate investment firms are planning to develop multi-building powered shell campuses in Northern Virginia.
The joint venture has reportedly already acquired two sites in Loudoun County, on which it will develop six buildings spanning 2.1 million sq ft (195,000 sqm). The companies aim to market the powered shells to hyperscalers such as AWS and Microsoft, but didn't share precise locations or specifications.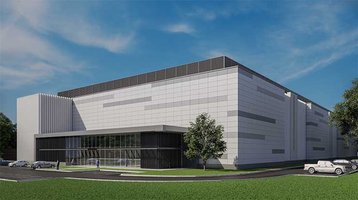 – American Real Estate Partners
Update: Harrison has published more details about the JV. The companies aim to develop six buildings ranging from 265,000 to 440,000 square feet on two campuses in Ashburn and Arcola, Virginia.
The Ashburn campus, located on Pacific Boulevard will be comprised of four built-to-suit facilities and deliver 300MW of capacity. The site includes the site of the former AOL headquarters, currently operated by Yahoo. Biz Journal reports, per Loudoun County records, that Yahoo Inc. and Oath sold the 43.3 acre-property to Pacific Ashburn Campus LLC in December for $136 million. Sentinal Data Centers previously acquired part of the AOL campus in 2017.
"A very substantial portion of the growth that we've seen [in the data center sector] over the last several years, and expect to continue seeing in the coming years, is coming from the hyperscalers, which are the very largest technology companies that are deploying a cloud compute product for customers and end users," Michael Hochanadel, managing director and head of digital real estate at Harrison Street, told Pere.
Harrison Street is reportedly investing in the JV through its opportunistic fund series and its Social Infrastructure fund, while AREP is drawing from its Strategic Opportunity Fund III launched last year.
"There were very few operators that were operating at scale and none of them were operating on a powered shell delivery basis," Doug Fleit, AREP's chief executive, told PERE. "We saw the need to deliver that scale to hyperscalers in Ashburn. We see that need is very real and something that will create a long-term program for our investment program."
Neither company is a stranger to data center investment, and have worked together in the past. In January 2021 Harrison Street and AREP acquired 21445 Beaumeade Circle in Ashburn, Virginia for $21.5 million. The two companies said the at the time they planned to build a two-story, 265,000 sq ft (25,000 sq m) powered shell data center on the 10.3-acre plot, which was previously owned by Chirisa Investments. Chirisa had bought the site in 2018 and had planned to build a 280,000 sq ft (26,000 sq m), 30MW data center.
January also saw Harrison Street acquire the Pittock Block carrier hotel in Portland, Oregon, for $326 million alongside 1547, and in November 2021 Harrison Street acquired CIM Group's stake in four US data centers co-owned with 1547.
Harrison and 1547 have completed a number of data center deals together; the two companies previously acquired the Wells Building carrier hotel in Milwaukee, Wisconsin, for $7.25 million in 2020.